Packing Centre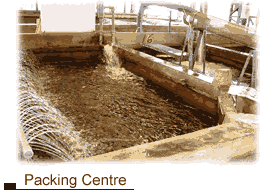 Hong Kong is the biggest transport centre of eel-fry in South-east Asia, owing to its location and free trade policy. More than 70% fry of Anguilla japonica and fry of Anguilla anguilla are re-exported to other areas through Hong Kong. For example, although there are direct airlines from Europe to Mainland China, the death rate of eel-fry is high and the survival rate is low when transporting from Europe to China directly because of imperfect transport system, frequent delay and other human factors in Mainland China. But if eel-fry were transported through Hong Kong, the survival rate can be much higher. The reasons are the efficiency of the Hong Kong airport, in-time transportation, our professional selection and breeding, and costly transport means (using oxygenic-water packing).
We are one of a few eel businesses having packing fields. The more important thing is, we are the leading one on the basis of scope of business, area of fields, and equipment. Our packing fields cover a floor space of 500 m2 in total, with contents of 2,000 kg of eel-fry at one time. All the fields are being equipped with thermostats, so the temperature of water can be adjusted from 3 to 16 degree Celsius as you like. They also keep close to publics, unlike other open and noisy packing fields.
Address: Tuen Mun Industrial Centre, 2 San Ping Circuit, Tuen Mun, N.T. Hong Kong.