A Brief Introduction
Founded in 1978 by the late Mr. Chan Wah Ling , Wai Kee Industrial Co. is a leading Hong Kong company in procurement and wholesale of eel-fry, young eel breeding for customers, and eel export. As a pioneer of eel business in both Mainland China and Hong Kong,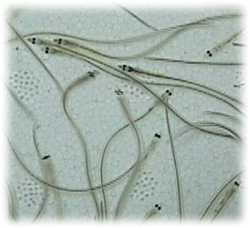 our company has been dedicating to increase the scope of eel business since its establishment. In the recent 10 years, apart from Anguilla Japonica, we have developed fry of Anguilla anguilla, fry of Anguilla rostrata, fry of Anguilla mormorata, fry of Bicolor pacifica, and fry of Anguilla australis.
The habitats of Anguilla japonica include Taiwan, Mainland China, Japan, South Korea and North Korea, all of where we have partners in buying and wholesaling. With a good geographical location, Hong Kong become the entrepot of eel-fry business. Our company is then able to make timely arrangements to meet the marketing requirements according to the time differences of returning-to-river and beginning of feeding of eel-fry and price differences in these countries and areas.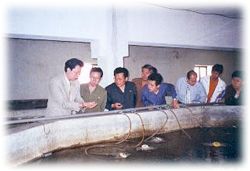 3. Believing in good faith, we are a company of excellent reputation among the eel business. We succeeded in importing fry of Anguilla anguilla from France, UK, Portuguese and Spain to Mainland China in the recent 10 years, and the total amount is about 25 to 35 percent of total eel import of China for these years. The survival rate of young eels selected and fed by us is much higher than that of other eel businesses. So we lead the marketing tendency, and are authorized by The Council for the Promotion of Foreign Trade of Democratic People's Republic of Korea as the only eel-fry export agent in 2000.
We devoted major efforts in breeding finger lings for customers using advanced technology in recent years, for example, we bred more than 10 millions finger lings for our customers in the years of 1999 and 2000. All the customers are very satisfied with our breeding when they themselves continue to breeding. Next season we shall service all the customers together with more good eel farmers on the basis of contract and responsibility system. We welcome the entrustment from overseas companies in the same trade.
Considering the frequent breach of futures contract and subsequent disputes in Taiwan and Mainland China nowadays, our company also acts as agent for futures trade online in order to protect mutual benefits of both buyers and sellers. Buyers and sellers can either make dealings on line publicly, witnessed by other eel businesses, or deal through us on unnamed principles.